I always tease my daughters that they each have two volume settings for their speaking voices. Breeze's voice settings are only Loud and Louder; and Raine's are Soft and Mumble. My aunt (who works with special needs kids) was telling me about a voice feedback hack to help the kids hear themselves better so they can modulate their voices. It needs a PVC pipe and a rather involved DIY process, so when the review for Sound For Life LTD's Forbrain headset came up, I was intrigued.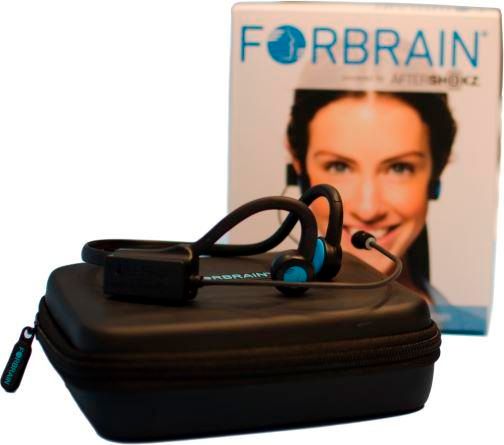 The Forebrain headset comes in a compact case, with a USB charger, a quick-start guide, and a pack of microphone foam replacements. The headset comprises a high quality microphone, a dynamic filter, and bone conduction transducers. Basically, it 'captures' your voice as you speak, and using the bones in your skull and ears, stimulates your brain. This enhanced auditory feedback loop can then help you improve your memory, focus, speaking skills--even singing (this last one I am most interested in, since I am as tone deaf as a doorpost).
It's quite easy to use the headset. Before your first use, you just need to charge it fully via the included USB charger. Then you place the hoop behind your head and above your neck, with the ear pieces in front of your ears (not inside like earphones), and the microphone about 3 centimeters from your mouth. Turn on the headset and start speaking. That's it!
Forbrain recommends using the headset 15 minutes a day, for six weeks, you can see improvement. The kit comes with suggestions for its use, such as outright reading aloud, singing, or even speaking with other people. You can vary your speed, volume, flow or pauses. When using it with children, you can try more playful activities, such as creating a story and taking turns doing the dialogue. They also recommend a posture--sit with your back straight, feet flat on the floor. You can also use it while walking around or standing up.
I wanted to work on Raine mostly, since she has a tendency to eat her words, especially when she's excited. When speaking in public, she also speaks so softly that others can't hear or understand her. But it was Breeze who was more willing to "help Mommy with another review." She was also eager to try modulating her voice: "I'm going to try my inside voice and my whisper," she said. When I told her that Forbrain can also help with memorization, she was doubly excited, since her goal is to memorize the periodic table of elements before she reaches fourth grade (I don't have to push Breeze most of the time--she stresses herself out with her own academic goals).
Breeze has been using Forbrain almost daily for about two weeks now. She alternates reading the elements (in order) out loud, and reading stories to herself. She usually tries to use her 'inside voice'--which now has two settings, soft and medium. I can say that she has been learning to keep the volume down, so that's a win. She has also memorized the periodic table (in order) from Hydrogen to Oxygen (H to O!) and can either give the symbol of an element, or identify an element from the symbol of several more elements. I am still trying to find a suitable piece for her to memorize--Forbrain recommends that you read the lines out loud and have your child repeat the lines immediately. I want Breeze and Raine to memorize something in Filipino (our weakest subject). I am also trying to figure out how best to leverage this auditory feedback loop to help them learn a new language. And I have to get Raine to use it regularly.
Breeze enjoys using Forebrain; she's the one who prompts me to do her daily session: "Can I do the earphone things now?" I also tried using Forbrain a few times, but for some reason it makes my head feel funny. Not an outright headache or dizziness, but a weird, off feeling that something isn't quite right. I wouldn't say that something's wrong though. Perhaps I am just not used to hearing myself up close and personal? And I realize that I don't like the way I sound, I haven't garnered the courage to hear myself sing (not like I can tell if I'm out of tune--will have to rely on the reactions of those around me).
Forbrain has received great positive feedback from different people who have used it in a variety of situations. My fellow homeschooling families have also tried it, and you can read their experiences by clicking below.