Ever since we did the review on Home School in the Woods Passport Project Middle Ages (which I did mostly with Breeze, since we're going through World History), Raine has been begging me to get her something for her own American History studies. We were thrilled when we got the opportunity to review Time Traveler American: The Early 19th Century.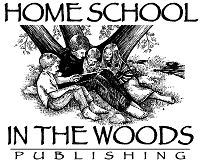 What it is (and who used it)
The history curriculum we currently use is literature-based, so we do a lot of reading (which the girls love), but hardly any hands-on activities (which the girls also love). Home School in the Woods, serves as a great supplement to our lessons. They truly are a "hands-on history company." Each pack contains lesson text, and accompanying printables for activities. You can get different unit studies: Time Travelers American History Studies (which features seven unit studies, from New World Explorers to World War II); World History unit studies; or even specific studies on topics like the Old Testament or Composers. The activities range from creative writing exercises (e.g. writing news articles based on the lessons, which you compile gradually, coming up with a full 'newspaper'); recipes; crafts projects (like a corn doll and a quilt); paper pop-ups; fact file cards; map work; and timelines.
Raine (who is 10, and is on the tail end of fourth grade) used this, although seven-year-old Breeze listened in sometimes and did a lot of the coloring work.
Lesson setup
The Early 19th Century unit has 25 lessons in all, and each lesson has text for reading or reading aloud. Then there are several related activities that you can do after the reading and discussion. You can certainly do whichever activity you choose, but it would be great to consider doing either the lapbook activities for all the lessons or all notebook ones, so that at the end of the unit, you have a unified project portfolio compiled. That said, we are trying out the lapbook activities this time, but I still mix in a few notebook activities that I think would be fun for the girls.
A lesson plan came with our download, and it shows the lesson and the associated projects, which are either lapbook (LB) or notebook (NB) activities. I chose to view it on the screen to save on printing, and I added a comment directly on the PDF to note which activities we did, and the date we accomplished them. I also use the lesson plan to prepare the activity materials for that lesson. I try to print out a day ahead (usually end up printing right before lesson time though!). I also cut out tiny pieces which Raine may have problems cutting out in her own (truth is, though, I enjoy the cutting--it's a soothing time out for me. Except when I start thinking of other productive things I could be doing instead of cutting).
During our actual lesson time, I read the lesson text aloud, and we discuss points that I think are important, or that Raine (and sometimes Breeze) want to explore. After, they go straight to the activities. For our lapbook track, it usually means assembling paper things, which will be assembled into the final lapbook during Lesson 25. If any coloring is needed, the girls do it while I read aloud.
What we liked
"I like [Home School in the Woods] because it has projects and it's not just endless hours of boring talk," says Raine. "It also says the lessons in a way that's interesting." She enjoyed the Lewis and Clark expedition the most because she found the descriptions of how they traveled engaging. "I like it coz it's exciting and they talk about cool stuff like who invented what," says Breeze (obviously the lesson on innovations and inventors was her favorite topic). As I mentioned in our previous Home School in the Woods review, the girls like the busy work as well, so a well put-together lesson like Time Travelers American History: The Early 19th Century is a joy to use.
As I mentioned in our previous Home School in the Woods review, the girls like the busy work as well, so a well put-together lesson like Time Travelers American History: The Early 19th Century is a joy to use. The PDFs to be used in the activities are nicely done, with detailed images. The activities themselves are fun, and the lesson text is easy to understand. 
Also, I like how this particular unit study is making American History come alive for Raine. While she likes all the fictional books that we read for American History, she dislikes discussing and even thinking about the actual events that took place. She doesn't agree that she should study American History. The Hubby and I, on the other hand, think that learning about America will be good, given that it has been a world power, and that our own country has been an American colony. It would be good to compare our own history and American history (and other countries' histories too). It's a struggle to get her to make some effort to listen to and remember even basic facts, so we have been slogging through American History. Home School in the Woods makes the effort less painful.
What was so-so
When we did our review on the Middle Ages unit, The Hubby had to start it without me (I was away on a business trip). He wasn't thrilled with all the printing he had to do, and he found the directions confusing. I, too, had a hard time getting on board with the instructions on how to put things together. I thought that it was a learning curve, since it was our first time to use Home School in the Woods.
This time around, however, I still have a hard time understanding some of the instructions. Putting together the layered map to trace the different historical routes, for example. The lesson project text instructs you to cut out the title, key, and names of the towns, trails etc. But it doesn't say exactly where you're supposed to glue it on. The line illustration does not clearly show it, and there was no project sample photo of that particular page. It also took me a while to understand how to do the Erie Canal project, and the other mini projects. I wish that there were more detailed instructions for everything for people like me who have a hard time visualizing.
Finally, I'm not too sure if I like the lapbook track after all. We do mini projects that will be assembled into one final one—and it sort of is a downer for a low EQ person like me. And the notebook projects seem more interesting. But of course, that's more a quirk of mine rather than an issue with the material.
The verdict
We still will choose to use Home School in the Woods in the future, since they offer so many products that will dovetail with our lessons. And they also have a new offering—Ala Carte items! These are smaller project packs on very specific topics that you can do for a particular lesson. I like the newspaper projects, for example—I think that they're a great way for Raine to write (which she likes doing) while synthesizing whatever she learned. So I plan to buy The Industrial Times & Grocery Sales Flyer set, which covers the late 19th and early 20th century history, and the Frontline News, which covers World War II. Those cost only $3.95 and $2.95 only, respectively.
So yes, do check out all that Home School in the Woods has to offer. We love them! And find out what other homeschooling families have to say about their experience. Click below: