Because of The Hubby and his side of the family, I have begun to see Math in a new light. And I now actually enjoy checking out different ways of learning and teaching Math, so I immediately signed up to review the Pre-Algebra course of UnLock Math.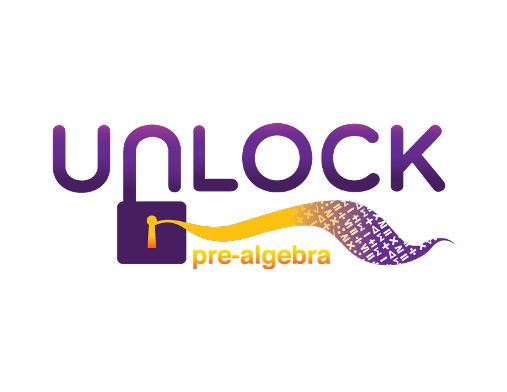 What it is (and who used it)
UnLock Math is an online Math curriculum (but it can also be used as a supplement) that teaches Pre-Algebra, Algebra 1, Algebra 2, and their latest course, Geometry. It breaks down Math into what they call "bite-sized chunks" so it isn't too overwhelming for the student. Each lesson has a warm up, video teaching component, followed by practice problems, and a bonus challenge question.
The name of the program, I suppose, comes from the padlock icons before the name of each lesson. Before you start the lesson, the padlock is, well, locked. And purple. When you start the lesson, the padlock unlocks, but remains purple. When you complete the lesson, the unlocked padlock turns blue. It's a quick way to visually check which lessons are done, in progress, and not yet started.
Raine, who is finishing up fourth grade as we do this review, is working on UnLock Pre-Algebra, and sometimes Breeze listens in as well.
The lesson setup
After you sign up for UnLock Math, you will need to setup your students and assign them a course. Your student, i.e. that little person who lives with you and has half your genetic material, can then login and access her dashboard. On the dashboard is a Welcome Letter, which is worth reading, because it explains how UnLock Math works, including the slightly complicated grading system that they use.
Each lesson starts with the Warmup, then you move on to the video, taught by Alesia Blackwood. Next up are the Practice Problems, then Stay Sharp problems (which review previous lessons), and finally, the optional Challenge Yourself bonus question. There are also reviews, quizzes, and the midterm and final exam.
Our experience: a quick rundown
Raine was able to read the welcome letter on her own, and she launched her lessons (you really do launch a lesson—there's a rocket icon beside each to activate it) without me having to explain anything—so the setup is pretty easy to understand. Everything is done online, although they recommend that you keep a notebook to write down solutions in (also so you can compare what you do with the explanation that is given). Raine, however, thinks it's too tedious to write things down, so she tries to solve everything in her head. At this point, we're still reviewing basics of whole numbers and integers, so not much solving going on yet. I'm sure she will realize the merit of writing things down neatly when we get to the more complex problems.
I can see Raine's progress through the Progress Report (found in the Student Dashboard, not on the parents', which I found a bit odd). It lists the overall grade she has, and you have the option to see the grades broken down by lessons. There is a separate grade book where you can see the details—the exact questions that were asked, and the answers. So you can see which questions your student got wrong, if any.
What we liked—and what was so-so
Raine loves Alesia—and I can see why. She's lively, engaging, and sometimes funny (and for some reason I really like her hair). She explains concepts clearly. "She doesn't rush through her explanations," says Raine. "And she explains like she has all the time in the world!" pipes in Breeze, "I understand that whole numbers have the zero, not the natural numbers." Breeze picked that fact up from just hanging out around Raine during UnLock Math sessions, so I'm quite pleased.
I also like that Raine could go through the program completely on her own. The website layout and the logic underpinning the progression of lessons and activities is clear.  The videos look professional, with great audio quality and visual effects. And apparently, those padlocks add a lot of oomph overall—Raine loves them. I guess it adds to the thrill of getting Math problems solved, the unlocking and changing of color of those padlocks.
I'm also glad we're going through the basic concepts again though (Raine studied these in her old school); the ideas get drilled down and set her up for future learning. I like the warm up, and Raine loves the optional Challenge.  She also likes that the problems (so far) are fairly straightforward and easy to understand. I also appreciate the extras--like the references and the formula sheets. You can download the PDF files and print out as handy references.
So far, the only glitch we've encountered just happened yesterday. For some reason, when the problem calls for four answers, Raine can't type in the field for the fourth answer. And moving on to the next question marks that question as wrong, and it pulls down her overall score. However, I emailed them, and they got back to me rather quickly (considering our time zone difference). I needed to clear the cache, and that pretty much solved it. And hearing from others, the customer service seems pretty responsive and helpful.
We're doing UnLock Math alongside Raine's other regular Math program. Among all the Math programs that we've tried so far, she likes this best. She likes it so much that I use it as a sort of reward, "Finish all your other school work and you can do UnLock Math." If that's not a testament to how much she likes it, I don't know what is!
Other families have tried the other courses of UnLock Math. Read about their experiences by clicking below.