Of all the reviews I've had to write so far, this one on Homeschool Rescue, created by Heather of Only Passionate Curiosity, has been the most difficult. Not because it isn't great material—but precisely because it is. This was also the first that the review was a product for me, the homeschooling mom.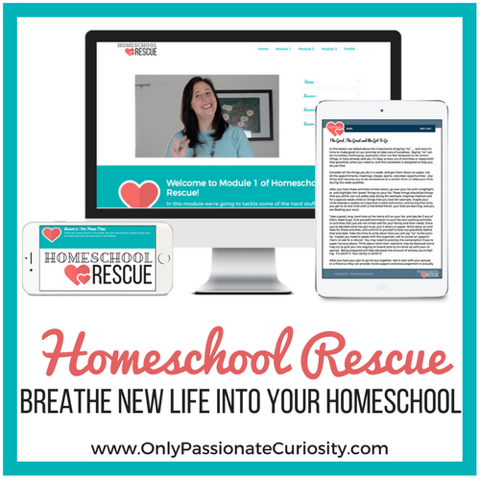 What it is
Homeschool Rescue is a self-paced online course that helps you get back on the homeschool track, and helps you have a more organized, purposeful homeschool. It's also a community of fellow moms who offer wisdom from their own experiences, a virtual shoulder to sometimes cry on.
The setup
Once you sign up for Homeschool Rescue, you get access to the course modules. There are five modules as of this review, with three to five lessons per module. Each lesson has a video, an audio file that you can download and listen to on the go, and the most useful for me—a downloadable transcript of the video (I usually absorb information better if I read it rather than watch it, so I downloaded all the transcripts instead and went through most of them rather than watch the videos). Each lesson also has downloadable worksheets, resource lists, and useful links. Once you finish watching, listening to or reading the lesson, you have your homework—filling in the worksheets for that lesson.
My experience: a quick rundown
I really wanted to do this review, because I felt I was always in headless chicken mode, running around quite pointlessly. However, as soon as I got assigned to it, work projects started pouring in. I was totally frazzled. Two or so weeks into the review, I still hadn't gotten 'round to doing a single lesson. I finally posted in the Facebook group that I was only getting started—and I found a lot of encouragement from Heather. "There's no behind here!" she said. I think that sets the tone for the entire program. It's full of encouragement, grace—and really practical, helpful tips and insights.
The course will only work as much as you let it. Meaning if you don't take time to think about the questions that Heather raises, you won't get much other than more head knowledge to cram into your most-likely-already-full brain. And that's what took me so long to work through this entire course. I'm far from done. I've read through the three modules already, but it's taking me so long to really get through them with purpose.
The very first worksheet, "My Homeschool Reality Check" asks you to look objectively at your current homeschool situation: what would I change; what do I struggle with; what I wished I could do more of and less of; what goal am I setting for myself. I hate getting critiqued, even if I am critiquing myself. And I sort of answered the questions in my head but shied away from writing them down. Because it becomes real when you write it down. That means that I finally admit to having a total lack of discipline and consistency in the HP Academy. And in life.
I also hated to admit that I harp on and nag the kids a lot, and I fear that some of the joy has gone out of learning. With this less-than-pretty picture I was painting of myself and our homeschool, I guess you can tell why I wasn't so keen. It's painful! But opening that up does leave room for improvement! And goals to set. So it's a good thing.
After I got over that hurdle, the next two lessons were a little easier. Lesson 2 was about my girls, really stopping to think about how they learn, their strengths and weaknesses, and what The Hubby and I want for them. While equally hard, this was more fun to do, the kind of activity that gives you warm, fuzzy feelings. I also appreciated the links to the learning style quizzes for the kids. And the bonus lesson on the difference between a hand-on learner and a kinesthetic learner.
Lesson 3 took some time to get through because I needed more of The Hubby's input on what we want to accomplish in our homeschool. The Hubby and I have been discussing this ever since we made the decision to homeschool the girls last year. We've always meant to sit down and do the HP Academy of Homeschool Shmool Mission Statement, but there was always something else to do. If there could only be one thing that I could do with Homeschool Rescue, then this is what I am grateful for.
We finally put down in writing what we really wanted the girls to learn (and it isn't impeccable grammar and mental Math skills). It was a great time to really discuss what we wanted our family to be, not just related to homeschool. We want the HPs to do everything with excellence, and have integrity and compassion. We're at our best, not just as individuals, but as a family, when we are striving for excellence not just for excellence's sake, but because we are working for God and not for man. And we strive to serve others because we are called to serve. We want the kids to grow up to be Christ-centered servant leaders.
And we finally have the first draft of the HP Academy Homeschool Mission Statement:
As with any business or endeavor, having this mission statement and a clearer picture of what we want to achieve and where we want to go will guide us as we choose curriculum, activities, and other things.
I skipped the last lesson in Module 2, because we aren't schooling under special circumstances, and I am now digesting Module 3, which focuses on curriculum, planning, and setting up the homeschool space. I need help in this area, since I really am the type to go crazy with curriculum and supplies and activities for the kids to join.
Heather gives a great reminder. She said, "Many of us are aiming high for our children. And we want them to take advantage of every opportunity that comes their way. But every op­portunity is going to have a cost." So as I go through our curriculum and plan out next year, I hope to streamline our homeschool (and life in general). I also look forward to finishing the rest of the modules (and I am happy this is a self-paced study!).
The verdict
If you feel lost, burnt out, or like you've ruined your kids for life, then Homeschool Rescue is for you. If you want to keep from feeling lost, burnt out, or ruining your kids for life, then Homeschool Rescue is for you. The worksheets alone are really useful. Plus you get a whole lot of bonuses, like downloadable planners. I'm glad I took the time to do this. Even if it hurts.
Read what other homeschooling moms think about Homeschool Rescue! Click below.