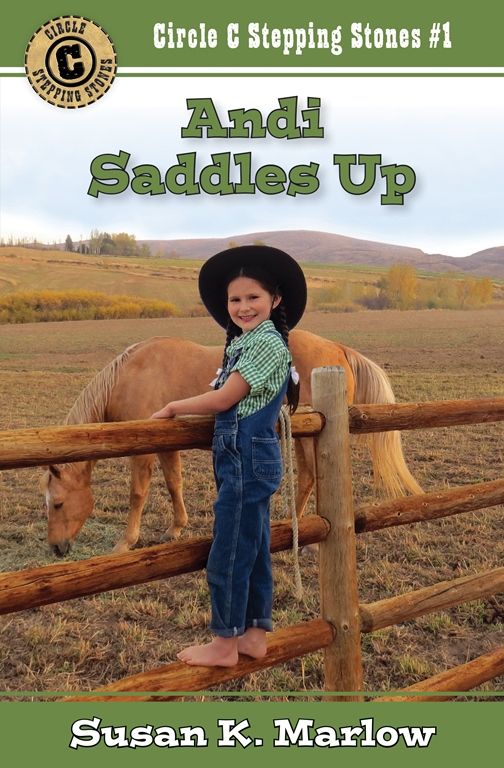 I initially thought that we wouldn't be able to do the review on
Susan K. Marlow
's newest Andi book series,
Circle C Stepping Stones
. More than a month after
Kregel Publications
mailed us the books, we still hadn't received them. I usually don't have problems receiving book packages from the U.S.; most of our homeschool materials were sent via USPS. So this incident unsettled me.
My weekly text messaging to Kuya Jun, our friendly postman, finally paid off last Friday though. He came to the gate, triumphantly holding a package aloft. "Ma'am, eto ba yung hinihintay n'yo?" (is this what you were waiting for). I could've hugged him. Apparently, our Andi Saddles Up and Andi Under the Big Top books arrived in the Philippines on February 24, and have been in postal twilight zone for nearly a month.
Both girls immediately took a book and plopped down to read. The Circle C Stepping Stones books are the newest series following the story of Andi Carter, a girl growing up in the Wild West during the 1880s. This set is geared towards kids ages 7-10. The other series tackle Andi at different stages: Circle C Beginnings, where Andi is 6 years old; Circle C Adventures, featuring Andi at 12; and Circle C Milestones, stories of Andi—now 'Andrea'—as a teenager.
Andi Saddles Up and Andi Under the Big Top are the first of six books in the series. I skimmed through the first few chapters—and I found it hard to put it down. I wanted to finish the story! Susan K. Marlow does a great job keeping the stories engaging. In fact, Raine finished both books in the same afternoon, and Breeze finished them over the weekend. Raine likes the books because "They aren't cutesy-fluffy. There are real problems."  Breeze, on the other hand, likes horses, so she enjoyed the books. "I didn't like that she [Andi] broke her arm, though."
One great thing about the Circle C Stepping Stones books is that there are free activity sheets and coloring pages that go along with each book. You can also buy a lapbook packet for more hands-on activities and learning (the Adventure and Milestones series also have a more detailed study guide, also free).  The free activity pages already provide great vocabulary and comprehension guides, with a schedule provided, so if you do get the lapbook packet, it's already scheduled in.
We haven't had the time to do the activity pages, but the girls did do the coloring pages. They really liked the illustrations, and we were pleased with the results. The illustrations were wonderful, and they made the final colored page pop.
We've been exploring the other series, and we'll probably get 'round to doing the activity pages this week (for Breeze at least; Raine thinks that they're too easy for her). Raine would also like to try for the Circle C short story writing contest, which starts in August.
So, in conclusion (that sounds so formal), we love the books. We look forward to reading more!
To read about other homeschooling families' experience with Circle C Stepping Stone books, click below: