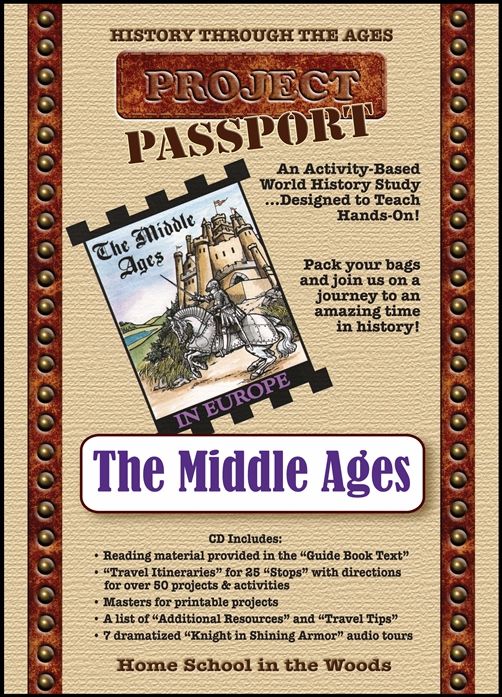 Of all the reviews we've done so far (a mind-boggling total of three), HISTORY Through the Ages Project Passport World History Study: The Middle Ages from Home School in the Woods was the one that the girls consistently looked forward to.
What it is (and who used it)
Home School in the Woods make engaging hands-on unit study activity packs for different periods in history. We had a difficult time choosing between the Middle Ages pack that we finally got, or the latest one they released, Ancient Greece.  They also have sets for Ancient Egypt and Renaissance and Reformation, and by 2018, they will also have a set for Ancient Rome.
As the name implies, each Project Passport unit study pack is set up like a trip through the specific era, and like any sightseeing trip, you have tour guides, sightseeing, souvenirs, and so on. Each Project Passport has 25 'stops' or lessons, and at each stop there are several hands-on activities you can do. Each stop also includes the 'itinerary' or lesson plan, which helps you get an overview of what you'll learn, and the activities that you can do, and the materials you need for each activity. Finally, each stop also has the 'Guide Book' or the actual lesson material.
We were supposed to use this with Breeze (currently 6 years old and in first grade) since she's on her first year of World History, but Raine (nearly 10 years old and in fourth grade) decided to take a break from American History and joined us.
Our experience: a quick rundown
I was out on a business trip when we got our Middle Ages Project Passport download, so The Hubby had the daunting task of getting the program and the girls all set up.  "This is a lot. So much to do. There are a lot of PDFs," he messaged me. "I think this should be simplified. Just bullet points and a few things to print." The Hubby was working from home while I was gone, so clearly setting up our Middle Ages journey took a little more work than expected.
When I got home a few days later, the girls had already printed and made their passports, luggage tags, and 'snapshots' (timeline figures, which are the equivalent of the tourist shots for your post-vacation photo album). We are supposed to make a 'luggage' folder to store all travel documents, but I didn't want to buy folders just to cut up, so we made do with plastic folders with flaps instead.
Stop 1—called "Packing for the Trip"—is all about preparing the materials that you will use for the rest of the lessons/trip. This includes the passport, luggage, bag tag, scrapbook, snapshots. This took us a couple of sessions. The Hubby was right—it is a lot of information, files, instructions. It can be overwhelming. And it uses a lot of paper, cardstock and ink. I chose not to print the itineraries, guide text, and travel planner/instructions to save on ink paper, and read it from my computer screen as needed instead.
The kids love the busywork of coloring, cutting, and pasting, so they loved our Middle Ages Project Passport from the start. But it took me a couple of stops to get into the groove. But by Stop 4, even I was enjoying it. Also, some of the recommended additional resources are already in our reading list, so I was quite pleased that I didn't have to hunt down extra materials.
We're currently at Stop 5, going on 6 (we spread out the reading and activities, since Stop 5 covered two topics—clothing and food), and I think we will continue our Project Passport until the end.
The lesson setup
As mentioned previously, Project Passport is set up like a tour through a period in history. We start each lesson by checking the itinerary of the day's stop. Then we either pull out our previously assembled materials, or I print out new materials as required. Then we read through the Guide Book text—a PDF file that contains a plethora of information about the day's lesson.
After, the girls work on our chosen activity. There are usually options for the stop's activity—you don't have to do them all. Typically, the options are for a Scrapbook of Sights project, or for a lapbook project. We've been doing the scrapbook style, because we haven't really gotten into the hang of lapbooks.
Stops 2 and 3 tackled the fall of the Roman Empire, and discussed how the barbarians invaded and eventually took over most of the Roman Empire, ushering the start of the Dark Ages, the first 500 years of the Middle Ages. The girls and I learned about the Goths, Vandals, Franks, and other barbarians, and we traced their paths across the (mostly) European continent. The girls got a kick out of the postcards 'sent' by Genseric, King of the Vandals, talking about the sack of Rome; and from Charlemagne, King of the Franks, about his Christmas Day coronation. (More postcards will be used in the future lessons, each from key characters in history, talking about specific milestones or iconic events in history—a fantastic idea). We didn't make the postcard rack project, though; the girls just keep the postcards in their non-luggage plastic folders.
Stops 4 and 5 get into the daily life during the Middle Ages. We discussed the feudal system, how people were grouped according to station in life, and how only a few had wealth and power. Stop 4 also had a guided audio tour, where we listened to people from the different classes. The clothes—discussed in Stop 5—captured the girls' interest. They made stick puppets representing the different classes of people, and we printed out the discussion and illustrations of clothing for their scrapbook.  The girls love their puppets so much, they even staged a puppet show, talking about the different roles in the feudal system.
What we liked
In general, us HPs like history. The kids have enjoyed their usual history lessons, and timelines are familiar. The Hubby and I devour historical fiction (the kids too!), and we have a growing collection of non-textbook history books.  The girls also have an idea of important world events, and can sometimes connect interrelated events on their own.
We love how our Middle Ages Project Passport is adding more dimensions to our knowledge. Even I am learning new things each lesson. The girls love making things with their hands, so all the paper crafting is a joy for them to do (I admit I like these projects too). The girls love their projects so much that they chose to include some of them at their next portfolio presentation and assessment.
As for me, I like how well-thought out the entire set is. It's not easy to make history relatable, so I appreciate all the effort that goes into each Project Passport. I like how each lesson is an immersion in that world. I also like how each stop is a bite-sized chunk of history. I like how the important facts are presented creatively in more accessible ways. The postcards help the girls remember the names of key historical figures, and the timeline has been adding to their big picture of the world. I like that we have options for the activities as well.
What was so-so
I only have a few issues with our Middle Ages Project Passport—and minor ones at that. First, it is time-consuming. There is a lot of prep work involved, especially for the first stop. The girls each make their own projects, so I have to prep two sets of materials. Which brings me to my second issue—the amount of paper and ink the activities consume. I'm stingy when it comes to printing (and think of the environment!) so each time I printed new materials, I could feel my heart twinge just a bit.
Finally, the guide text can be overwhelming, huge chunks of text all scrunched together like that. While I appreciated the down-to-earth, conversational tone of the text, I would also have wanted maybe bullet points or shorter blocks of text. I read the text aloud to both girls, and we pause and discuss as we go along. For people who don't really excel at reading aloud (like me), it is hard to make the reading exciting (but that's a me issue, not a material issue).
The verdict
We would definitely recommend HISTORY Through the Ages Project Passport World History Study: The Middle Ages. "It's fun, and it's also a good way to learn history," says Breeze. "It's interactive," adds Raine, "It makes learning more fun." Raine wants us to get the activity packs for American History, and Breeze wants to get the ones for Egypt and Greece.
Bottom line: we love Home School in the Woods!
For more reviews by other homeschooling moms, click below.